Your Guide to Finding the Best Independent ERP Consultants
A helpful guide and checklist for manufacturing, distributing companies to find the best ERP software consultants.
On this page:
Most project teams from mid-market manufacturing and distribution organizatons are challenged by a project.  The sheer size of the initiative is a key reason. The typical ERP project cuts across each area of the business, impacting functional areas from finance, accounting and supply chain, to shop floor, production, inventory, quality management, shipping and more.   It's difficult for team to free themselves up from their functional responsibilities and immediate tasks and apply the needed time, effort and attention to the project.
Also, noteworthy – it's highly unlikely anyone on the project team has gone through or led a comprehensive ERP selection project. At best, perhaps one team member has some experience in the area, but it's likely their experience took place a decade or so ago.
Another critical factor – a successful ERP selection and implementation demands a myriad of skillsets – from project management, business process mapping, change management and risk management, to a full understanding of modern enterprise technology and the vendor landscape.
Because of these challenges and many others, it's important the company understands the value an independent ERP consultant team can deliver to their organization.
Differences between an ERP Consultant and an Independent ERP Consultant
Ultra Consultants was established more than 25 years ago as a response to the challenges manufacturing and distribution project teams face when undertaking an enterprise technology project. The following are only a few benefits of teaming with truly vendor-neutral. The value to project teams includes:
True Independence: Project teams from manufacturing and distribution organizations can have faith that our allegiances are to the project team. With no alliances with vendors,  we help select the solution and application based upon the merits of the technology.
Technological Landscape: Companies rely on Ultra as a trusted advisor and obtain unbiased recommendations from experts who understand the modern technology landscape.
Educational Expertise: Staying current with the ERP landscape is the mission of Ultra's Center of Excellence, Our ERP consultants understand how each product or solution can meet specific requirements. Located at the Center of Excellence keeps apprised of the most effective selection and deployment methods related to enterprise technology.
Benefits of Teaming with an Independent ERP Consultant
Smart organizations turn to Ultra as an independent ERP consultant to minimize risk, accelerate the selection and implementation process and increase the success and value of ERP.
As an independent ERP consulting firm, we add tremendous value to your ERP project because we offer technological knowledge and industry expertise to organize, manage and measure success.
Our team contributes to your bottom line by offering:
Deep experience in all manufacturing industries delivered by a seasoned team located in manufacturing centers around North America.
A proven methodology with an objective, in-depth understanding of enterprise software selection and implementation of best practices.
Efficient processes that make your critical resources more productive in the project.
A process that speeds your time-to-benefit. Ultra's methodology cuts to the chase. Our approach gets our clients to the goal line in half the time of traditional methods.
An independent, vendor-neutral team that has worked through the process numerous times, with strategies to accelerate training, implementation and return on investment (ROI).
Cost-saving opportunities that stem from ERP contract negotiations. Our methods encourage time and resource savings at all phases of the project, from business process mapping and requirements definitions to training and go-live.
7 Step Checklist to Finding an Independent ERP Software Consultant
Outlined here is a 7-part checklist for teams looking to find the best ERP consultants for their project.
We suggest the organization consider each one of these areas as they assess lining up resources:
Experience: Does the firm's consulting team know the industry? Will the consultants assigned to the project offer skill-sets specific to manufacturing, distribution?
Project Deliverables: Are the project deliverables specified (with examples)? Do the deliverables make sense and add value to the business and project?
Scope of Work: Will the consulting partner work with the organization side-by-side, at each phase of the project, to ensure the project is successful or will the organization be left holding the bag with a laundry list of tasks to do with limited busy resources?
Independence: Is the firm truly "vendor agnostic" with no relationships to software vendors?
Services: Does the consulting firm offer services through each phase of a project? (evaluation, selection, implementation)? Does the firm offer a thorough description of the services to be delivered? How long, on average, is the tenure of the consultants assigned to the project?
Reputation: What does the firm's past clients say about their experience? Does the consulting firm regularly contribute to industry thought leadership?
Value: How is project success measured? Is it only on-time, on-budget? Or is there more depth and maturity in the metrics – e.g. is the project business case ROI being met? Does the ERP consulting firm put into place proven methodologies to assess ROI?
A Focus on Change Management
In looking for the best independent ERP consultants, we would be remiss if we didn't mention change management – an essential component of  business process improvement.
Selecting and implementing an ERP system results in big changes for the entire business. These changes can be overwhelming for the team and the rest of the workforce.
An ERP consultant must offer organizational change management skills to help in user adoption and acceptance of the project.
Change and risk management is also key during the implementation phase.  A project has a higher likelihood of success when led by resources with experience in setting the plan, project management, ERP data conversion, and all aspects of ERP implementation. The involvement of an independent resource helps keep the project on time, within scope and on budget – and helps mitigate any conflicts with the vendor.
The Best Consultants Drive Value
While not an exhaustive list, the checklist provided above helps a manufacturing and distribution organization locate the best ERP consultants for their project.
There's value in obtaining unbiased opinions about what's working or not working regarding business processes. This expert outsider's perspective can be invaluable throughout the project to counter the team's personal biases, based on their job roles and how things have been done in the past.
Meet Our Team Of Independent ERP Consultants
Our consultants provide an unbiased approach to ERP software selection. Along with years and years of expertise, certifications and experience. Together, we have implemented over 500 successful ERP projects across a variety of industries.
With over 27 years of experience our consultants have worked with over 400 clients and completed over 500 projects. Meet our team of experts.
"The value and insights Ultra brought to the table were outstanding and led to a much deeper level of insight and confidence in our final selection."

"Ultra's vast experience across the ERP marketplace provided significant leverage in our final negotiation process."

"Ultra consistently provided professional and timely deliverables that exceeded our expectations. They kept our best interests in mind ."
Heading into an active project?  Contact Ultra for a look at the value an ERP consultant can deliver to your organization.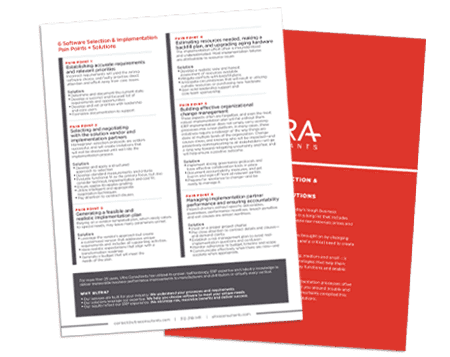 6 SOFTWARE SELECTION & IMPLEMENTATION PAIN POINTS + SOLUTIONS
Software selection and implementation processes often present challenges of their own. To steer you around trouble and help you drive success, Ultra's experts compiled a list of pain points and solutions to be aware of as you embark on this journey.