A Manufacturing Case Study Continues: Steel Services Company Achieves Process Improvements
This blog post continues the success story outlined in a recent blog post entitled "Steel Services Company Drives Improvements Through Technology Upgrades"
As an independent ERP consulting firm, we take every chance to share a manufacturing case study that showcases client achievements.
As we outlined in an earlier blog post, we recently teamed with a large specialty steel service center which operates out of several facilities.
Management knew that its outdated legacy software coupled with manual processes and workarounds were hindering their operations and their bottom line.
The company was hindered by outdated legacy systems that were inefficient which was a major obstacle to gaining a competitive edge.
As we noted, the company has been transitioning from a distributor-centric business to a hybrid model where the distribution operation must co-exist with a manufacture-to-order fulfillment model. Numerous gaps existed in their legacy processes which had to be overcome to support the company's value proposition going forward.
Thus the company turned to Ultra's independent ERP consultant team for guidance.
A Proven Approach
The Ultra team proposed a two-phase approach for this engagement which involved business process improvement and enterprise technology selection.
Phase 1: Business Process Improvement
The first phase of business process improvement followed Ultra's successful time-tested methods. The team analyzed and documenting the enterprise's current state business practices and systems. By documenting the current state, the ERP team gains a complete understanding of operations, information systems, business processes and systems topology, master data, and information technology network infrastructure.
Operations: The team reviewed the facilities layout and documented key material flows with current and potential data gathering points. They observed receiving and warehouse management operations and analyzed current inventory control procedures to define an improved target state. The results included full documentation of improvement opportunities and key requirements.
Information systems: The team surveyed key systems and software usage to catalog interface and to highlight areas for improvement.
Business processes: The Ultra team constructed integrated process flow diagrams and maps of current systems to document major business scenarios and highlight areas for improvement via process review workshops.
Master data management: Analyzing the current state of master data, the team created a high-level data relationship map of prospects/clients, vendors, design documents, sources, uses, degree of referential integrity, data quality, and maintenance processes.
Technology network: The Ultra team assessed the technology network to pinpoint areas ready for new technology and those that will require further investment and process change.
Current State Review
This manufacturing case study involves the importance of defining the current state.
To complete the current state review, the team prioritized the improvement opportunities based on change difficulty, cost, timing, and benefits. From these priorities, the team drafted an education curriculum and future state definition plan.
The educational curriculum placed significant focus on industry best practices for manufacturers in the same industry.
Based on the current state vision, the team conducted detailed education and future state definition sessions to meet the company's unique requirements. The Ultra team members updated the scenario matrix and descriptions of how the major process steps support relevant business scenarios.
Built into all engagements is Ultra's focus on change management and risk definition. Before engaging any vendors for presentations, the team built a business case for change. 
Phase 2: Technology Selection
Once the business process improvement phase was completed, the team focused on appropriate technology selection to drive the improvements outlined in the business case for change and the documented future state scenarios.
The team identified and assessed appropriate software vendors by industry, size, and other requirements. The vendors on the short list presented demos of solutions to fit the company's needs. The Ultra team defined areas where management can expect value results as the final design comes into focus.
Manufacturing Case Study Next Chapters
As of this writing of this manufacturing case study, the team is preparing to implement the new technology solution following Ultra's best practices framework for implementation.
Our proven implementation methodology, gathered from more than 300 successful engagements, provides nine service tracks that deliver the best results:
Program management/governance
Enterprise project management/team leadership
Risk management/mitigation
Organizational change management/development
Business processes/best practices
Managed vendor accountability
IT strategy/architecture
Quality management/continuous improvement
Data management/accountability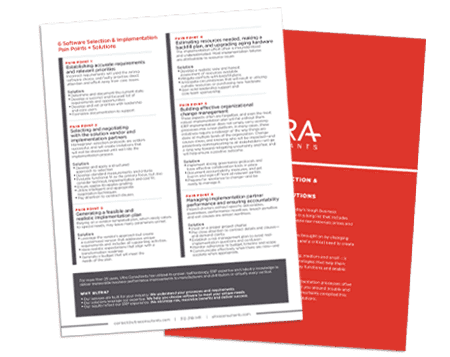 6 SOFTWARE SELECTION & IMPLEMENTATION PAIN POINTS + SOLUTIONS
Software selection and implementation processes often present challenges of their own. To steer you around trouble and help you drive success, Ultra's experts compiled a list of pain points and solutions to be aware of as you embark on this journey.