Choosing the Best ERP Consultants
Organizations use Enterprise Resource Planning (ERP) systems to manage a range of business procedures across different departments or functional areas, including: 
Financial management (finance and accounting)
Human resource management (HRM)
Procurement management 
Inventory management
Supply chain management (SCM)
Project coordination and management
Manufacturing shop floor operations 
Customer relationship management (CRM)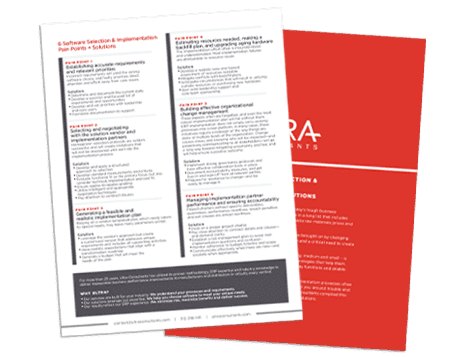 6 Software Selection & Implementation Pain Points + Solutions
Today's business environment is tough and volatile! Our downloadable PDF will help you see Pain Points + Solutions!
DOWNLOAD NOW
The current business environment is competitive and fast-paced. Companies rely heavily on ERP software systems to streamline their operations and professional services to remain competitive. However, even the most advanced ERP tools can be ineffective if they are not implemented and managed properly. That's why top manufacturers and distributors leverage ERP consulting companies to ensure success in the ERP selection and implementation journey. 
Top ERP consulting firms, such as our experts at Ultra Consultants, guide companies through the entire ERP process. We play a key role in selecting the right system, implementing the entire system effectively, and providing ongoing support and training. 
Choosing the best ERP solution is crucial to the success of the implementation project, so finding the best ERP consultant to assist in the process is just as important. The Enterprise Resource Planning software market is flooded with many consultants and professional services companies. But how do you choose the best one? This article will help provide answers to this question and will cover the following:
Qualities of the top Enterprise Resource Planning (ERP) Consultants
Differences between an ERP Consultant and an Independent ERP Consultant
6 Step Checklist to Finding an Independent ERP Software Consultant
Benefits of Teaming with an Independent ERP Consultant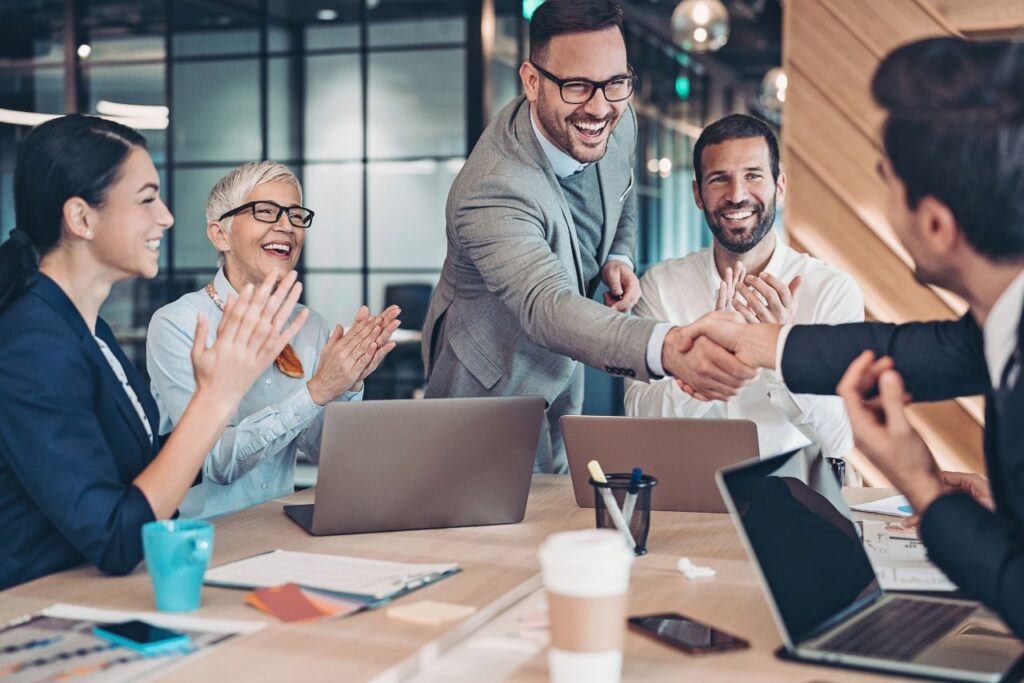 Qualities of the Best Enterprise Resource Planning Consultants
Implementing and managing Enterprise Resource Planning (ERP) systems requires a high level of expertise and experience. There are many ERP and CRM software such as Microsoft Dynamics (Microsoft Dynamics GP), SAP Business ByDesign  (SAP ERP), Sage Business Cloud and Epicor ERP. How do you choose a solutions provider from among all of these similar ERP companies and systems? 
This is where you need an ERP consultant. An ERP consultant is a professional who specializes in helping your organization select, implement and optimize ERP software. But what qualities should you look for when selecting an ERP consultant for your business?
1. Deep Knowledge and Experience in ERP
The top ERP consulting companies possess an unparalleled depth of knowledge and experience in ERP professional services. They are experts in various aspects of enterprise software including implementation, configuration, customization, maintenance and system integration. 
Furthermore, they are familiar with the different modules of the ERP system, such as finance management, sales, inventory, human resources, enterprise asset management and business intelligence. They offer strategic advice and a proven methodology on how to optimize core business processes using these modules.
2. Effective Communication Skills
Effective communication skills are crucial qualities for the top ERP consultants. The top ERP consulting companies must be able to communicate their ideas effectively to clients, team members, stakeholders and in some cases, vendors. An ERP consultant with effective communication skills should be able to listen actively, ask probing questions and convey their ideas in a clear and concise manner.
It is essential that leading ERP consultants be able to articulate technical and complex concepts in a way that is understandable to non-technical audiences. The best ERP consultants should also be excellent collaborators who are able to build rapport with clients to understand their specific business needs and better deliver business performance.
3. Ability to Customize ERP for the Client
ERP solutions are not one-size-fits-all, and clients may need tailored solutions to bring better business value. The leading ERP consultants understand this and have the technical expertise to create customizations that fit the client's requirements. They take the time to understand the client's business and processes before proposing solutions, and they keep the client's goals and objectives at the forefront of their recommendations. 
Additionally, the ability to customize ERP options requires data migration skills to ensure that all existing data is preserved and integrated fully into the new system. The elite ERP consultants also work collaboratively with their clients to ensure that customizations are implemented effectively and that the client is satisfied with the final product.
4. Analytical and Problem-Solving Skills
The best ERP consultants possess strong analytical and problem-solving skills. These consultants are adept at breaking down complex problems into smaller, manageable pieces and then analyzing each piece in detail to identify potential solutions. They are able to look at problems from different perspectives and use critical thinking to evaluate the pros and cons of various solutions. Additionally, elite consultants are able to effectively communicate their analysis and proposed solutions to their clients in a clear and concise manner. They are able to listen actively to their clients' needs, ask questions to clarify any issues and then provide expert guidance and advice. 
Are you ready to see what an ERP consultant can do for your organization?
Call or set up a free 30 minute consultation with one of our ERP experts today!
5. Strong Project Management Skills (PM Skills)
The top ERP professional services firms possess strong project manager skills and business intelligence that allow them to efficiently manage project timelines, budgets and resources. They are able to utilize customer data for advanced business analytics, analyze business procedures and identify pain points, develop implementation plans and track progress of each stage of the project.
Effective communication and collaboration with stakeholders are key as they work to align resources and keep all parties informed of progress throughout the project. The best consulting services also have the ability to troubleshoot any unexpected issues that arise during the implementation process, leveraging their knowledge of project management tools and business solutions to quickly identify root causes of problems and course correct as necessary.
Cloud ERP consultants specialize in the implementation and support of cloud-based ERP systems. They have expertise in the cloud-based ERP platforms, such as Oracle Cloud ERP, SAP S/4HANA Cloud, and Microsoft Dynamics 365 Business Central. They help with everything from selecting the right software to configuring it to training employees on how to use it.
A cloud ERP consultant:
Assesses your business needs and objectives
Recommends the best cloud ERP solution for your business
Helps you migrate your data to the cloud
Configures the software to meet your specific requirements
Trains your employees on how to use the software
Provides ongoing support and maintenance
Independent ERP Consultants
An independent ERP consultant is a professional who provides advice and assistance to businesses on the selection, implementation and optimization of their chosen enterprise resource planning (ERP) system. Independent consultants are not affiliated with any particular ERP vendor, which gives them the freedom to recommend the best solution for each individual business.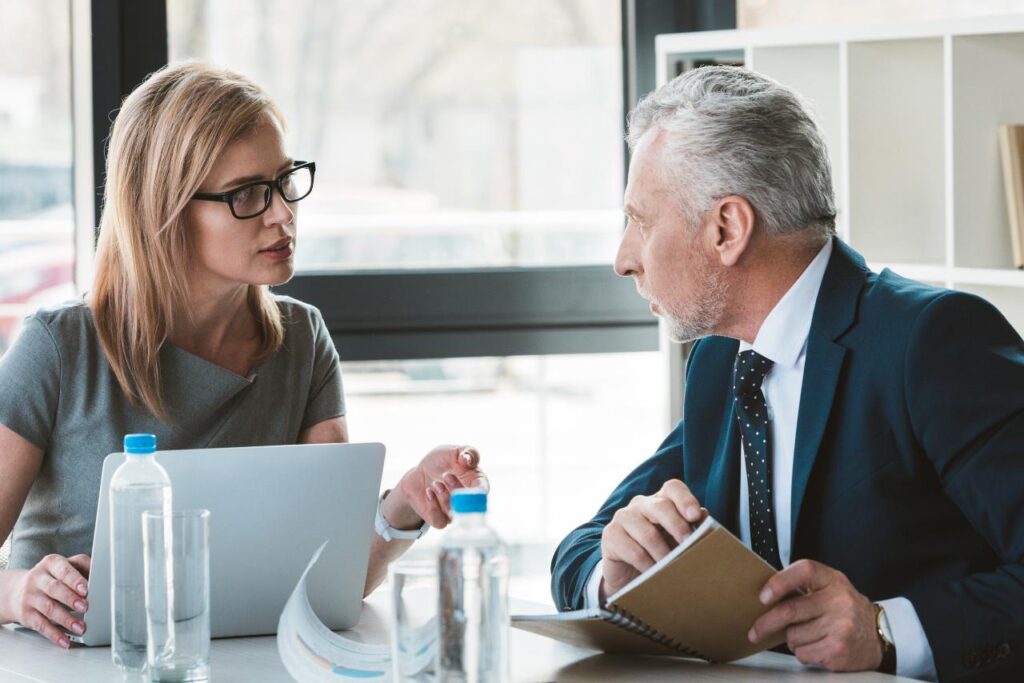 Differences Between an ERP Consultant and an Independent ERP Consultant
True independence is a crucial difference between an ERP consultant and an independent ERP consultant. Some ERP consultants may be affiliated with a particular software provider or an ERP implementation service provider. An independent ERP consultant is free from such constraints and possesses the liberty to objectively evaluate and recommend the most suitable ERP solutions for their clients.
This true independence enables an independent consultant to prioritize your needs and goals while avoiding the pressure of meeting sales quotas or pushing specific software packages for expected kickbacks. 
Furthermore, an independent ERP consulting firm are not influenced by vendor interests. They are not limited by a narrow range of software solutions. They can truly serve as unbiased advisors, focusing on your specific requirements and preferences. 
2. Technological Expertise
Most enterprise software consultants work for an established company that provides ERP services with established ties to certain vendors. They are responsible for providing guidance and recommendations to clients concerning the use, implementation and maintenance of particular ERP software. On the other hand, an independent consultant is either self-employed or employed at a firm that values research and transparency about the various options available in the market. They work with a wide variety of clients that require their services.
They specialize in understanding personalized ERP software solutions for your company and provide expert advice on the best ERP selection, implementation, customization and support. Furthermore, independent ERP consultants often have a wider range of skills and expertise in various areas such as ERP project coordination, risk assessment and organizational change management. 
An independent ERP consultant possesses extensive knowledge and broad-based understanding of ERP platforms. They have years of experience working with various ERP vendors and provide unbiased advice to your organization. On the other hand, a regular ERP consultant may not have the same level of educational expertise as an independent consultant. They may only have experience with a particular vendor's software or have limited experience with enterprise-wide implementations. 
ERP consultants are usually employed by software vendors or business consulting firms. They offer a structured approach for implementing the new system. They typically follow a predefined plan and usually have limited discretion to deviate from it. 
On the other hand, an ERP consulting company is more agile and offers a more customizable methodology tailored to your organization's specific needs. They are not constrained by the limitations of vendors or organizational bureaucracy. They adapt their approach more readily to fit the unique requirements of your industry and business. This includes offering guidance on business process management and business process improvement to help you optimize your workflows and improve efficiency. 
Most ERP consultants work full-time for a consulting company. They receive a salary and benefits from their company, which ultimately gets passed on to the clients.
On the other hand, an ERP consulting company may work for a firm or on a freelance basis. It has no ties to a particular ERP vendor as a source of revenue. Independent consultants must solely justify their pricing on the amount of money they can save a client. For example, Ultra's consultants save clients an average of $160,000 per implementation.
6 Step Checklist to Finding an Independent ERP Software Consultant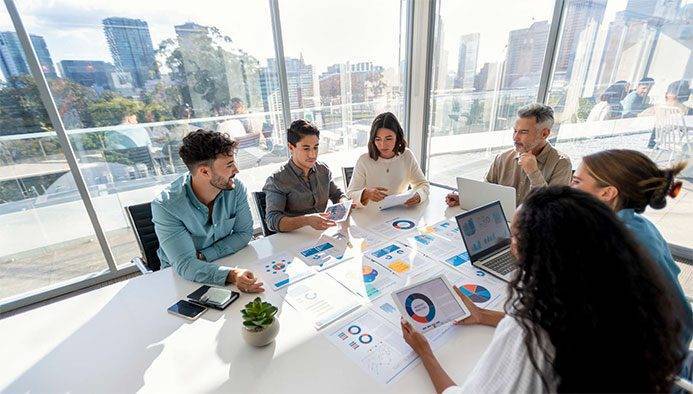 When seeking a top ERP consulting company, experience should be of the highest priority. The right consultant should have years of experience and knowledge in workforce management and business software development and have worked with various industries, ERP software companies or systems. The more experienced the consultant, the more knowledge they will have regarding an ERP system or similar software implementation and its capabilities.
An experienced consultant will be able to provide insight into industries similar or identical to yours, which will help with implementing the correct ERP features for your business needs. Their experience provides valuable recommendations and strategies for your specific organization, including how to optimize resources with the ERP, best practices and common pain points to avoid.
When searching for an independent consultant for your cloud based ERP software needs, it's important to consider the project deliverables. These are the tangible and measurable outcomes that the consultant is expected to produce during the course of the ERP project. Before hiring a consultant, it's important to clarify the specific deliverables you expect from them and to communicate this clearly.
This will help ensure that everyone is on the same page and that the ERP project is completed successfully and is within the business objectives. Additionally, it's important to work with a consultant who has experience in utilizing the best tools to deliver high-quality project deliverables on time and within budget.
When looking for an independent ERP software consultant, it is important to have a clear understanding of the scope of work required. The consultant should be able to identify and assess your company's current system and provide recommendations for improvements or modifications.
This may include identifying gaps in the system, implementing new modules or customizing existing ones and integrating with other siloed or disparate systems. Additionally, the consultant should be able to provide guidance on best practices for project accounting, system maintenance and user training. It is important to ensure that the consultant has experience with the specific ERP software currently being used and has knowledge of industry-specific requirements.
An independent consultant is not beholden to a particular software vendor and therefore provides unbiased advice and recommendations based on the specific needs of your business. They are able to objectively assess your organization's current systems and make recommendations based on their expertise rather than being influenced by sales quotas or commission incentives from software vendors.
In addition, independence allows for flexibility in choosing the best software solution for your business rather than being limited to a specific offering. The same is true with implementation services—an independent consultant provides greater insight that isn't limited to one vendor. 
When searching for an independent ERP software consultant, it's important to consider the services they offer and the aspects covered by the services. These include business process improvement, change management, and project management. Look for someone who has experience in your specific industry and has the ability to provide a range of services, such as implementation, customization, training and ongoing support. But mostly, top ERP consulting firms should be able to offer guidance on selecting the right ERP system for your business needs and budget.
Additionally, they should have a thorough understanding of the business technology and capabilities, such as automated accounts payable and receivable, asset management, risk management, financial accounting and tax management, and be able to guide you through the enterprise software selection process, implementation process and any necessary upgrades or expansions. 
An independent consultant's reputation gives you a good idea of their level of expertise and ability to deliver results. The best ERP consulting firms should have a good reputation. 
You can assess their reputation by conducting due diligence and researching them online, checking out their past projects and testimonials. For example, we make a practice of giving a list of our 100 most-recent clients to anyone considering our services.
A good reputation indicates that the consultant and the consultant's firm have a track record of helping companies achieve their goals and can be trusted to guide you through the implementation process. Additionally, reputation is a good indicator of how the consultant communicates and collaborates with their clients. 
Benefits of Teaming with an Independent ERP Consultant
When choosing an Enterprise Resource Planning (ERP) solution that fits your business needs, it is important to work with an independent ERP consultant. Ultra Consultants is a leading independent ERP consulting firm that can help you achieve success in your ERP implementation. Here are some of the benefits of teaming up with an independent ERP consultant:
1. Expertise and Experience
With expertise and experience in ERP implementation, optimization and customization, we can help you streamline your business operations, reduce costs and increase efficiency. Unlike other ERP consulting firms, an independent ERP consultant offers a more personalized approach to your specific business needs. At Ultra Consultants, we are highly knowledgeable in various deployment strategies, including cloud ERP solutions, and recommend the best fit for your company.
Additionally, our experience in handling complex on-premise and cloud projects ensure successful implementation and seamless integration with your existing systems. 
Independent ERP consulting firms do not have any vested interest in promoting any particular ERP system or vendor. This allows them to provide objective insights into your needs to recommend the most suitable solution for your business. These ERP consulting firms thoroughly assess your business processes, industry-specific requirements and long-term goals to develop a comprehensive ERP strategy tailored to your needs. With no bias towards any specific ERP system or vendor, the consultants provide an impartial evaluation of various on-premise and cloud ERP options, showcasing the strengths and weaknesses of each option. 
Experienced ERP consulting firms help you identify areas of inefficiencies and waste within your current processes and recommend cost-effective solutions. They also assist in the selection and implementation of appropriate accounting tools that meet your specific business needs.
Ultra Consultants helps your business with financial management and human capital management by selecting the right software that meets your specific needs and budget, thereby reducing the risk of overspending on unnecessary features or functionality. We also have expert ERP systems negotiators on staff, so you always get the best possible price.
Moreover, ERP consulting firms work alongside your business to optimize your enterprise resource planning system and streamline your operations including supply chain management, warehouse management and operations. This results in significant cost savings over time. They provide cost friendly solutions for enterprise companies that not only reduce operational costs but also yield higher profits through improved efficiencies.
With our guidance, your business prioritizes its spending, maximizes its ROI and stays within its budget constraints while enjoying the benefits of a robust ERP system that supports your business goals. 
Ultra Consultant's customized approach allows us to understand your unique business needs and identify areas where your current ERP solution may not fully meet those requirements. By partnering with us, we help you develop a tailored solution that meets your specific needs and maximizes your return on investment. 
Our experienced consultants work closely with your team to understand your business processes, workflows and data requirements. We then develop a customized ERP solution that not only fits your needs but also aligns with your long-term growth goals.
Teaming with independent ERP consulting firms brings several benefits to your organization, including project management expertise. By collaborating with a consultant, your business ensures that your project is managed effectively and efficiently, saving you time and money in the long run. 
Our team of experts provides comprehensive project manager services to our clients, helping them navigate complex ERP implementations with ease. We specialize in creating project plans, identifying and mitigating potential risks and providing ongoing support throughout the project lifecycle. Our consultants work closely with your organization to ensure that the project is completed on time and within budget, while also maintaining a high level of quality. 
One of the most significant benefits brought about by teaming up with ERP consulting firms is risk mitigation. At Ultra Consultants, expert consultants understand the importance of addressing risk factors such as project delays, budget overruns and unexpected technical issues. The consultant's in-depth knowledge and experience helps your business identify potential risks, assess their impact and develop strategies to mitigate them. 
Along with expert guidance and support, the independent consultant helps your company establish effective communication and ensures that all project stakeholders are aligned towards the same objectives. In addition, the consultant provides an objective perspective on the project and alerts your business to potential risks and challenges that they may not have considered. 
With over two decades of experience in the manufacturing and distribution industries, Ultra Consultants provide comprehensive solutions and ERP consulting services to help businesses plan, select, implement and operate their ERP systems. 
Our team of experts helps organizations across many verticals to solve complex business challenges through technology and best practices. We have a deep understanding of the ERP marketplace and have worked with leading ERP software vendors, providing our clients with unbiased advice and facilitating successful ERP implementations.
Our commitment to your business' growth and success is evident in our proven track record of delivering exceptional results. Our consultants provide an unbiased approach to ERP software selection, implementation, professional services automation, quality management, vendor management and supplier management, drawing from years of expertise, certifications and experience.
Together, we have implemented over 500 successful ERP projects across a variety of industries. Mid-market manufacturing businesses can trust that working with Ultra Consultants will lead to successful ERP projects that boost productivity, cost savings and increased operational efficiency in these areas. Get started on your digital transformation journey today with the expert project managers at Ultra.
best erp consultants best erp consultants.  best erp consultants.best erp consultants. best erp consultants. best erp consultants.best erp consultants. best erp consultants best erp consultants.  best erp consultants.best erp consultants. best erp consultants. best erp consultants.best erp consultants. best erp consultants best erp consultants.  best erp consultants.best erp consultants. best erp consultants. best erp consultants.best erp consultants. best erp consultants best erp consultants.  best erp consultants.best erp consultants. best erp consultants. best erp consultants.best erp consultants.