ERP Selection Consultants
The manufacturing landscape is ever evolving, leaving companies to wonder about technology for reducing costs in manufacturing. Over the years, manufacturers have found innovative ways to reduce the costs of a company's production processes while improving the quality of their products. Today, as manufacturers face new challenges and changing markets, digital transformation has emerged as a powerful tool to create healthy business operations, increase operational efficiency and reduce business costs.
In this article, we will explore the various ways technology along with ERP selection consultants can help manufacturers reduce costs significantly and improve their financial management.
Are you ready to see what an ERP consultant can do for your organization?
Call or set up a free 30 minute consultation with one of our ERP experts today!
Why Use ERP Consulting Services
In the dynamic realm of business, selecting the right Enterprise Resource Planning (ERP) system is pivotal for driving growth and efficiency. The journey towards ERP selection demands expert guidance and strategic decision-making.
But choosing the right ERP can be a daunting task. With so many options available in the market, it can be overwhelming to navigate through the sea of features and functionalities.
Implementing an ERP system is not a one-size-fits-all solution. Each organization has different requirements, workflows, and unique challenges. There are many benefits of hiring an ERP selection consultant. They can make the process of choosing the right ERP easier and more efficient for your business.
ERP consulting services bring in-depth industry knowledge, technical expertise, and best practices to help you navigate the complexities of ERP implementation. ERP consulting firms understand the intricacies of various ERP software and can tailor the system to suit your specific needs. By leveraging their experience, they can guide you through the entire process, from system selection to post-implementation support, ensuring a smooth and successful transition.
An ERP consultant works with your business to identify your unique needs, educates you in the capabilities of modern technology solutions, and then makes sure that your chosen ERP system is set up to satisfy your company's needs, from optimizing business processes to selecting and implementing enterprise software and realizing ROI after implementation.
The consultant also organizes system usage training for important stakeholders, debugging problems by ensuring vendors uphold their half of the bargain. In other words, an ERP consultant helps a business find the ideal ERP, one that works easily and effectively to achieve the organization's objectives.
Ultra Consultants stand as your trusted ERP selection consultants, bringing decades of experience to the table. In this post, we will unveil the top 6 reasons to choose Ultra Consultants for ERP selection, delve into our history, showcase client success stories, and provide insights through frequently asked questions.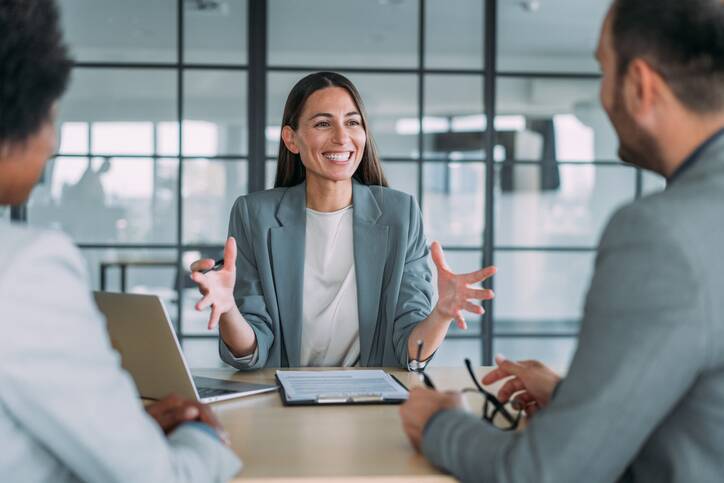 Top 6 Reasons to Choose Ultra Consultants for ERP Selection
1. Vast Industry Expertise
With a rich history of assisting businesses across various manufacturing and distribution industries, Ultra Consultants possess unparalleled industry expertise. Our independent ERP consultants understand the unique challenges and requirements of different sectors, ensuring that the ERP solution selected aligns seamlessly with your business needs.
2. Tailored Solutions
We recognize that each business is distinctive. Our commitment to tailoring software solutions sets us apart. We closely collaborate with you to understand your specific challenges, goals, and objectives. Our customized approach guarantees that the solution chosen not only meets your current needs but also accommodates future growth.
3. Proven Methodologies
Our proven methodologies guide you through the complex journey of ERP selection. We assess your requirements, evaluate potential solutions, and provide comprehensive recommendations based on a meticulous analysis. Our methodologies are designed to optimize efficiency, minimize risk, and ensure success.
4. Independent and Vendor-Neutral
As an independent consulting firm, we maintain vendor-neutrality. Our recommendations are purely driven by your unique requirements and business objectives. We objectively evaluate a wide array of ERP options to recommend the one that aligns best with your needs. Our team holds the solutions provider accountable to meet your project goals and can participate in contract negotiations, reducing risk and costs to you.
5. Data-Driven Decision-Making
We understand the significance of data-driven decision-making. Our consultants leverage advanced analytics to evaluate ERP solutions, ensuring that the one chosen provides the necessary insights to enhance efficiency, streamline operations, and drive strategic growth through your new ERP system.
6. Comprehensive Support
Our support extends beyond enterprise software selection. We provide guidance throughout the implementation process, ensuring a smooth transition. Our commitment to your success is unwavering, and we offer ongoing support to guarantee the solution delivers sustainable benefits.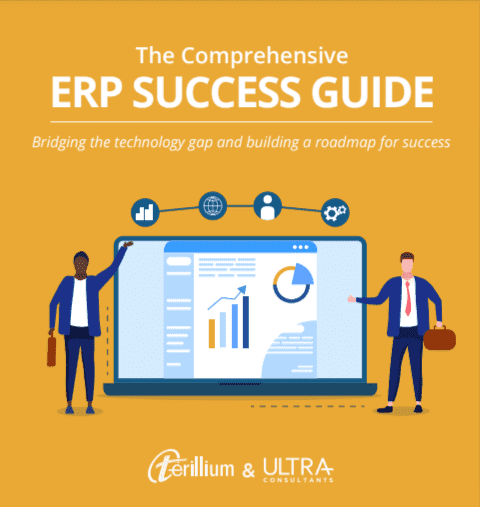 The Comprehensive ERP Success Guide
From choosing the right solution to the best practices for implementation, this ERP Success Guide will give you the knowledge you need to ensure your new solution achieves your business goals.
DOWNLOAD SUCCESS GUIDE
Frequently Asked Questions (FAQs)
There are several factors which effect the ERP selection timeline:
1. Business Complexity:
The complexity of your business processes plays a role in determining how long the ERP selection process will take. Businesses with fewer departments and simpler processes may complete the process relatively quickly, while larger organizations with multiple subsidiaries and complex workflows might require more time for evaluation and decision-making.
2. Internal Resources:
The availability and allocation of internal resources can significantly impact the timeline. If your team has limited time and resources to dedicate to the ERP selection process, it may take longer to gather requirements, compare vendors, and analyze demos. However, with a dedicated team and adequate resources, the process can be expedited.
3. Decision-Making Process:
The decision-making process within your organization can also influence the timeline. Some companies have streamlined decision-making structures, making it easier to reach a consensus and move forward. Conversely, organizations with multiple stakeholders and decision-makers may face delays as they seek alignment and approval from various departments.
1. Define Your Business Goals:
To align your ERP system with your business goals, you must first have a clear understanding of what those goals are. Ultra's strategy consulting services help you identify your organization's objectives and the key areas that need improvement. Are you aiming for increased efficiency, better inventory management, or improved customer satisfaction? By defining your goals, you can effectively evaluate ERP solutions that address those specific areas.
2. Conduct a Thorough Needs Assessment:
Once you have identified your business goals, it's time to assess your organization's software solutions needs. Analyze your existing processes and identify any gaps or inefficiencies that an ERP system could help address. Engage with key stakeholders, including department heads and employees, to gather their insights and understand their pain points.
By involving your team in this process, you not only gain valuable input but also create a sense of ownership and buy-in for the upcoming changes. Ultra's experienced consultants can guide this process to ensure that you know what's possible with modern solutions, and have a structured plan for developing a desired future state and optimizing your core processes.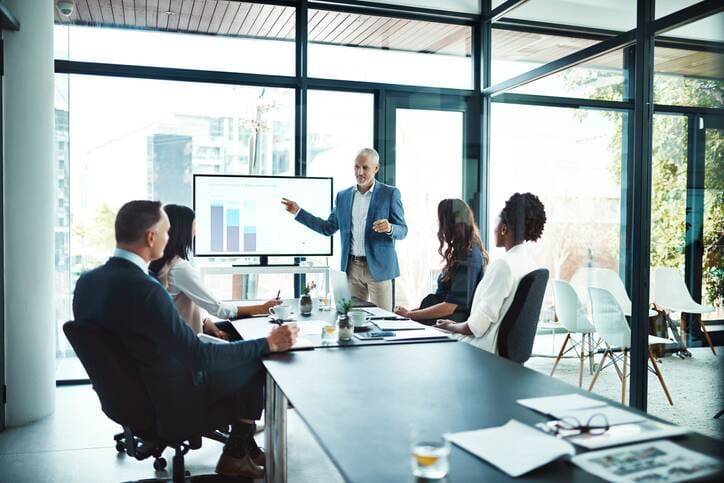 Our History and Client Success Stories
Founded with a passion for helping businesses achieve excellence, Ultra Consultants have been at the forefront of ERP software selection consulting for over two decades. Our journey began with a vision to empower organizations with transformative technology solutions. Throughout the years, we have collaborated with businesses from diverse industries, on hundreds of successful ERP implementations.
Some of the notable clients we have had the privilege of working with include:
Knox Machine: Ultra helped this leading sub-assemblies manufacturer reduce time required per order from two hours to two minutes, replace paper-based processes, and see a 40% improvement in reporting.

Micro Control: We helped this electronics test equipment manufacturer optimize operations and eliminate their spreadsheets with a system to manage planning, track costs and provide visibility to work in process (WIP).

Pacific Plumbing: This leading mid-sized distributor leveraged Ultra's BPI, selection and implementation to replace their legacy system, eliminating manual workarounds and optimizing core processes to set the stage for future growth.

Briggs Equipment: Ultra helped them reengineer their processes and select the right ERP to make their future goals a reality.

Pactiv Corporation: Implemented a data delivery and reporting system to consolidate post-merger sales reporting data.

Dober Group: This family-owned chemical business replaced their legacy system to gain visibility into customer profitability and set the stage for growth.

Chicago Tube: Ultra's ERP consultants helped this specialty steel service center replace their 30-year-old green-screen enterprise system to gain integrated fabrication management.
Our solutions range from business consulting services, such as inventory optimization and demand forecasting, to software selection, implementation, and value realization resulting in tangible benefits for our clients. Our job is to work with your company to optimize your business processes, employ a structured approach to reduce your risk and costs, and use leading enterprise technologies to drive improved performance. Read our case studies for more examples of the benefits our consulting team brings to manufacturers and distributors.
Navigating Success with Ultra Consultants
Elevate your ERP selection process with Ultra Consultants, your partners in unlocking success. Our vast industry expertise, tailored digital solutions, proven methodologies, data-driven decision-making, and comprehensive support make us the ideal choice for driving efficiency and growth through ERP projects.
Unlike other ERP consulting firms, Ultra Consultants are 100% vendor-independent, ensuring we'll recommend software solutions based on your unique goals. We can help you efficiently identify potential vendors, shortlist the best options, secure competitive pricing and facilitate vendor demonstrations tailored to your specifications. Our expertise can also save you from overspending on unnecessary features, ensuring you achieve value for your investment.
Get Started with Ultra's ERP Selection Consultants
Explore your digital transformation journey with us and experience the power of informed enterprise resource planning software selection.