In Consideration of Digital Manufacturing and ERP
We often see the term "digital manufacturing" in various industry articles and discussed at industry events. We also hear from manufacturing and distribution teams wondering how digital marketing and ERP apply to their organizations.
Manufacturing?
A search of the term reveals a variety of definitions.  The PLM vendor Siemens offers the definition of digital manufacturing as "the use of an integrated, computer-based system comprised of simulation, 3D visualization, analytics and collaboration tools to create product and manufacturing process definitions."
An International association dedicated to manufacturing technology defines digital manufacturing with a broader view.  They see the concept as impacting the entire extended enterprise.  Their definition is noted as "the application of digital information from multiple sources, formats, and owners for the enhancement of manufacturing processes, supply chains, products, and services.
Digital Manufacturing Defined
At a recent webinar Ultra presented with Infor, we shared the definition of digital manufacturing as "an integrated approach to manufacturing that is centered around the strategic use of information systems."
That definition covers it, but we would add some additional ideas.  We see digital manufacturing as integrating disparate systems, processes, and machines – as well as eliminating manual record-keeping and data management. The idea is for technology to improve decision making based on real-time data that shows the true picture of the enterprise.
Digital Manufacturing is a new way to do work – using integrated technology to improve decision making based on real-time data that shows the true picture of the enterprise.
Whether viewed as a concept focused on the product development processes or viewed as a force to enhance manufacturing processes, supply chains, products and services, digital manufacturing is part of what is termed as "Industry 4.0" or the Fourth Industrial Revolution.
Digital Manufacturing and ERP
In terms of leveraging modern ERP systems, digital manufacturing offers value for manufacturers.
By automating processes and streamlining data management, project teams can speed processes, remove manual handling and improve productivity in planning and production processes.
ERP plays a role in digital manufacturing. Effective use of enterprise technology helps provide intelligence from multiple technologies to optimize processes and improve product design.
4 Questions about Digital Manufacturing and ERP
A key aspect of digital manufacturing is providing real-time visibility into customer relationships and streamlined communication  We recently teamed with Infor for a webinar addressing the challenges of digital manufacturing, especially in the areas of customer communications.
Noted below are key questions related to this topic, addressed by Infor's Director of Industry and Solution Strategy, Nick Castellina.
1. What does the term "Digital Manufacturing" mean to today's organization?
Nick Castellina, Infor: It means automating and differentiating processes through technology to become more effective. Automating means digitizing a process to become more effective and to provide visibility into its execution. Differentiation means creating a new experience for a customer, business partner, or employee. As an example of a digital manufacturing transaction, a manufacturer or distributor can automate providing a quote to a customer, but creating a portal where they can configure a product themselves is the key differentiation.
2. What are the most significant areas of improvement when it comes to maximizing the value of customer information?
There are many ways that maximizing customer information can improve your business. You can provide a better experience by showing your customers you understand their needs and can upsell other products and services. You can also utilize this information to improve demand planning and forecasting.
3. Why is gaining visibility into customer relationships a differentiator for today's

manufacturing

organization?
Customers demand interaction on their terms. Being prepared for this can differentiate you from your competitors.
4. How does the Infor solution help organizations improve the management of customer data?
Infor can help to store and track customer data in a single centralized location, integrated with the rest of your operational data. The Infor solution also helps to facilitate interactions during the quote-to-order process to allow our customers to increase sales, reduce costs, and differentiate their brand.
Digital Marketing and ERP – Learn More
Download an on-demand webinar entitled "Digital Manufacturing – Differentiate through Customer Communications" with special guests Infor.  The session helps you identify digital manufacturing initiatives to improve the way a business performs.
View the archived webinar at your convenience for additional details about digital manufacturing and ERP.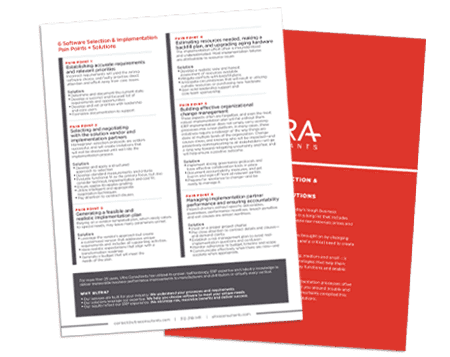 6 SOFTWARE SELECTION & IMPLEMENTATION PAIN POINTS + SOLUTIONS
Software selection and implementation processes often present challenges of their own. To steer you around trouble and help you drive success, Ultra's experts compiled a list of pain points and solutions to be aware of as you embark on this journey.