Every one of our enterprise technology projects requires a conversation about our role in general, and our responsibilities and tasks specifically. It's an important discussion because it helps our clients understand the value we bring to their project and their organization.
We find that most mid-market manufacturing and distribution organizations are challenged when selecting and implementing new technologies. Here's why:
The scale of the project.
The expertise required by its phases.
The organization-wide nature of an enterprise technology initiative, which touches and changes virtually every core process.
The inability to free critical resources from their functional responsibilities and daily tasks, and enable them to apply the required time, effort and attention to the project.
Also, it's highly unlikely anyone on a project team has gone through or led a previous ERP project. At best, perhaps one team member has some experience, but more often than not, that experience is a decade or so old.
Another critical factor: A successful ERP project demands a myriad of skillsets – from business process mapping and optimization, project management, change management and risk management, to a complete understanding of modern enterprise technology and the vendor landscape.
That's where an independent ERP consultant comes in. Expertise is valuable. Our teams bring deep knowledge of the fundamentals, pain points and core processes of your industry, as well as objective and comprehensive insight into the capabilities of modern solutions.
The 7 Deadly Sins of ERP Implementation
These are The Seven Deadly Sins of ERP Implementation.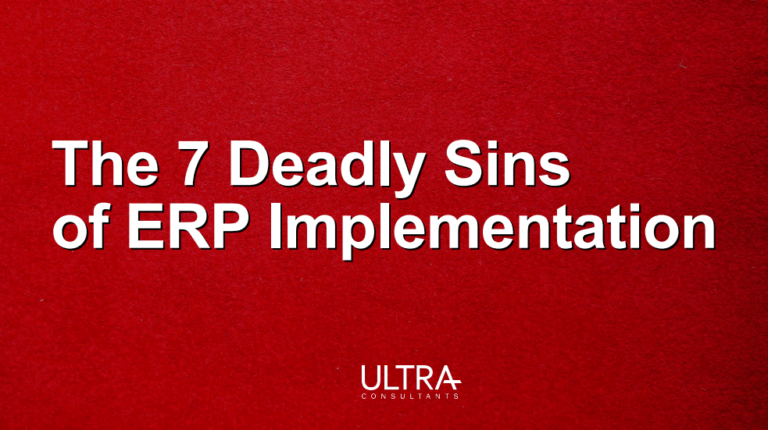 Providing Expertise, Driving Value
Bringing deep ERP experience and expertise to every project, the role of a consultant involves knowing your specific industry and the industry best practices across all business processes. In addition, the consultant should have a structured solution selection process, as well as knowledge and experience leading complex solution implementation projects.
More specifically, an ERP consultant…
Offers independent insight
The role of an ERP consultant is to view the project from an outside perspective and provide an unbiased analysis of your business processes against industry best practices. Ultra, for example, as an independent consultant, is not a software reseller and does not receive compensation from software companies. We keep current on the entire vendor landscape, multiple technology platforms and capabilities of a broad range of modern ERP solutions – and provide unbiased and vendor-neutral guidance.
Shares industry knowledge
The role of an ERP consultant is to offer experience implementing ERP software in a specific industry or for similar businesses. A good consultant also will suggest general best practices (regardless of industry) that could create greater efficiency.
Leads business process transformation
Software selection and implementation should never be viewed as solely an IT responsibility. A professional, independent consultant will help a business align the project to the strategic initiatives of the business.
Provides specialized skills
The role of an ERP consultant also involves project management, functional expertise, risk mitigation and dozens of other success-critical skills.
Guides change management
Because enterprise solution selection and implementation can involve significant organizational change, anERP consultant draws on  change management skills to help ensure user adoption and acceptance of the project.
Manages implementation
An ERP implementation has a higher likelihood of success when led by resources with experience in setting the plan, project management, data conversion and other key aspects. The involvement of an independent resource helps keep the project on time, within scope and on budget – and helps mitigate any conflicts with the vendor.
Provides education and training
Taking the time to provide a thorough education for everyone involved in the project is critical for the project team – so it is well-versed in ERP concepts and industry best practices. This is a key area led by the ERP consultant. And in many projects, the consultant helps develop and deliver user training and support during the entire project – from selection to go-live.
Enabling Success, Reducing Risk
ERP project teams work more effectively – and successfully – when they can leverage a proven methodology. At Ultra, our consultant-led methodology includes four phases: Business Process Improvement, Enterprise Technology Selection, Solution Implementation Management and Business Value Realization.
1. Business Process Improvement
A foundation for transformation is built by identifying (and understanding) the client's unique requirements, assessing the current state, demonstrating what's possible with modern solutions, developing a desired future state and optimizing core processes.
2. Enterprise Technology Selection
An unbiased, comprehensive and highly structured process guides the client's team as it evaluates solutions and determines the best-fit – a toolset that will meet the organization's unique requirements, scale with the business and enable the future vision.
3. Solution Implementation Management
A flexible, proven implementation methodology and expert project management reduces risk, accelerates time-to-benefit, drives ROI and delivers success.
4. Business Value Realization
Industry best practices, process maturity-focused projects, software enhancements and add-on capabilities  sustain process improvements, close the value circle and ensure clients maximize the benefits of their new ERP solution.
The bottom line: An ERP consultant makes the process go a lot smoother, provides structure, accelerates time-to-value, reduces risk and provides the client with much-needed ongoing management and support.